13 – 17 May 2013
2nd Climate Partnership Conference
Tourism and traffic
Trakai / Lithuania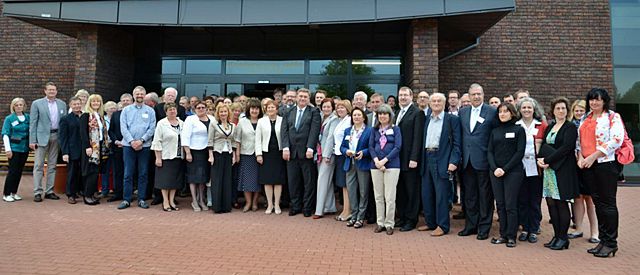 Participants of the 2nd Climate Partnership Conference
Please note:
Some of the documents provided below for download are available only in Lithuanian. For further interest, you can directly contact Karolina Narkevic - Email: . This email is protected against spam. JavaScript has to be activated so that it can be shown.
Mon, 13 May 2013
7.00 p.m.
Welcome by representatives of the Trakai district
8:30 p.m.
Introduction to the topic "Climate protection, tourism and transport" and presentation of the conference program
Asta Kandrataviciene, Head of administration of Trakai district municipality
Tue, 14 May 2013
9.00 a.m.
Conference opening and welcome addresses
Vytautas Zalieckas, Major of the Trakai district
Birute Vesaite, Economy minister of the Republic of Lithuania
Welcome addresses by participants of the partner cities Rheine, Bernburg, Borne and Leiria
Part 1: Development of environmentally and culturally oriented
tourism and promotion of active recreation
10.00 a.m.
Tourism in Lithuania - prospects and problems
Speaker: Dr Raimonda Balnienë, Director of Tourism Department in Lithuania

10.20 a.m.
Environmentally and culturally oriented tourism in Trakai
Speaker: Laima Balcytiene, Director of Trakai Tourism Information Centre

10.40 a.m.
Discussion, questions
11.30 a.m.
Short presentation of tourism concepts of the twin cities
12.35 – 1.00 p.m.
Discussion, questions
Part 2: Environmentally and culturally oriented
tourism in practice
2.30 – 6.00 p.m.
Presentation of the prospects and plans of the Trakai district
City walk, exchange and discussion
Wed, 15 May 2013
Part 3: History of the city, civic commitment
and climate change
9.00 a.m.
Reports from the twin cities Rheine, Bernburg, Borne and Leiria
11.30 a.m.
Opportunities for an Authentic Environmentally and Culturally Oriented Tourism in Trakai
Speaker: Gintaras Abaravičius, Director of the Trakai Historical National Park
3.00 p.m.
Excursion to Trakai Historical National Park

4.40 p.m.
Guide tour of the sculpture park "Angel Hill", created by the village community "Uzugiriai"
Speaker: Gintaras Abaravičius, Director of the Trakai Historical National Park
Thu, 16 May 2013
Part 4: Climate-friendly tourism products
"Experience Nature by Bike"
09.00 a.m.
Traffic and Climate Protection. Development of Bicycle Traffic in Lithuania
Speaker: Dimijtri Bial, Ministry of Transport and Communications of the Republic of Lithuania
09.20 a.m.
Concept for Bike-tours in Trakai
Speaker: Ana Gornova, Trakai Tourism Information Centre
09.40 a.m.
Reports from the twin cities Rheine, Bernburg, Borne and Leiria
11.00 a.m.
Thematic workshops
12.00 p.m.
Excursion / lectures:
Water tourism – "Holidays under sails"
3.00 p.m.
(Environmental) Tourism cooperation in Lithuania on the example of the four capitals:
Kernave, Trakai, Kaunas and Vilnius
4.30 p.m.
In the footsteps of the Grand Dukes - Seeing Vilnius with the eyes of tourists
Evaluation of the conference
Fri, 17 May 2013
Farewell to the delegations

Press reports